When RIG first established in 2011 we predominately curated exhibitions at our gallery space in Ladyburn Business Centre as well as facilitating various arts classes in our own venue and at events and festivals.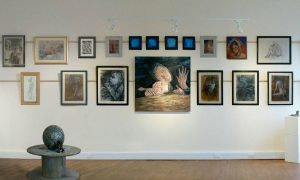 Figuration: A group exhibition of figurative work from local artists that attended the life class. This was a mixed skill exhibition with beginners and professionals exhibiting.
Creative Identities: This exhibition showcased the results from creative photography workshops with young people in Inverclyde, working with photographer Iseult Timmermans as part of the Creative identities project. The original project was delivered in partnership with Street Level, Photoworks and Inverclyde Councils Arts Education Team. The young people explored photography as a tool for drawing with light and also to creatively represent aspects of local history and legends from Greenock.
Enlightenment: A Solo exhibition of Scottish Contemporary Landscapes from Glasgow based artist Scott Naismith. We sold books and postcards at Seagull Gallery signed Scott Naismith. Videos for this show can be seen on you tube.
Thinking & Creating: A mixed media exhibition that featured work from four Inverclyde school P7's, who worked with Glasgow School of Art and a philosopher/writer. The project, in partnership with Riverside Inverclyde, encouraged children to question ideas about themselves, their lives in Inverclyde and the rapid changes taking place around them. They expressed themselves verbally through philosophical discussions and visually through the creative arts. The exhibition featured on Reporting Scotland and in the Guardian. The show brought 210 people to the space including Michael Russell MSP.
Ardgowan Hospice & McTears Charrity Auction: This was a charity one night only event held at RIG. Working with McTears auction, £6995 of art was sold including a John Lowrie Morrison that was auctioned at the event.
Christmas Arts & Crafts Show: An arts & crafts fayre which made available a wide variety of work direct from artist's studios to the public. A main aim of this was to offer affordable art to suit every pocket. We sold 6 paintings and 4 artists went on to show work at the Seagull Gallery.
On Common Ground: A solo show of figurative paintings from Edinburgh based artist Martin J Lawless, depicting every day people with every day lives. We hosted the Annual PSYBT meeting at the Gallery and the artist gave a talk and insight into his work and inspirations.
Majesty & Grandeur: A solo exhibition of paintings by official Tall Ships artist William Dobbie, celebrating the tall ships visit to Greenock and the Clyde.
Light on the Landscape: A group exhibition of Scottish landscape artists, artist talks and school workshops.
Ardgowan in Mind: A charity auction and weekend show to raise money for Ardgowan Hospice. Face painting and jewellery workshops were planned.
Masterclasses: Artists including William Dobbie, Andrew Fitzpatrick and Aileen Wrennall hosted 4 hour art masterclasses at RIG to teach and share their techniques.
Myths & Legends Festival 2010: RIG worked with Inverclyde Council on the annual Myths & Legends Festival. We developed the concept of the multi headed wish dragon called 'Dracon' who protected giant treasure from the evil flying creatures from the land of Denvyclaire. Rig artists worked with 3 Inverclyde primary schools in a series of workshops and the children created the flying creatures and giant treasure out of recycled materials. For the dragon event our sculptors created a 9ft high smoke bellowing dragon, this was on display all day and members of the public came and wrote out wishes and tied them on to 'Dracons' scales. Our flying creatures glowed in the dark and children flew them in the night-time parade.
Expressive Arts Week: RIG Arts worked with Inverkip Primary for 1 week and delivered various arts projects to all the children from the Nursery classes to P7. The Theme was the Great Scottish Outdoors and each class created a textile collage banner based on a theme, representing a season. The school also created an animation film. To begin our model makers made 4 sets of the school and helped the children create plasticine models of themselves and props for the school sets, then RIG's media experts taught the children how to animate. The end result was a 5 min film. We held an exhibition for the school and the children proudly displayed all their work to education workers and their parents. It was a great success and RIG was nominated for a Spirit of Inverclyde award.
Enterprise Childcare Summer Classes: RIG created and delivered 4 different art and film workshops for teenagers with Autism. This started off a long working relationship with Enterprise Childcare and a programme of work for their Autistic kids.
Art in the Square: A Discover Inverclyde initiative to close Cathcart Sq, Greenock. Rig created the Art in the Square initiative and brought artists and crafters out to the st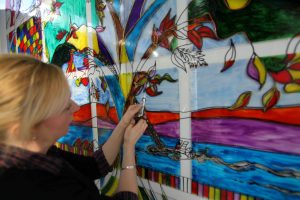 reet to meet and sell work to the general public. We had free face painting and children workshops.
All Saint's Interactive Stained Glass Mural: Working with one class for every year from P1 to P7 in the special needs base, RIG arts worked in the school, helping the children design and create a large stained glass effect mural. This artwork has a multi function doubling as an interactive teaching tool.
Tomorrow's People: Working with 12 young people as part of the Tomorrow's People Working it Out back to work scheme, RIG has been enabling them to tell their story using documentary film techniques. The final film is an insight into the journey that some of these misunderstood young people take. The group were nominated for a National award from the Tomorrows People organisation.
Youth Project Alcohol Team: The Alcohol DVD project – Working with Inverclyde Council's Young Person's Alcohol Team, RIG produced a documentary that showed the reality of alcohol use and misuse in Inverclyde. Capturing opinions from councillors to young people this educational resource was used by youth groups, schools and the NHS to promote discussion with young people on the issues surrounding alcohol.
16+: Working with Inverclyde Council's Community Learning and Development team, RIG produced a short film documenting the experiences of the young people that go through the 16 Plus Activity Agreements getting back to work scheme. The DVD told the story of the many young people that are enabled by the scheme and are prepared to go to work.
Sail Inverclyde Woopi Film Project: Tall Ships DVD – Working with Sail Inverclyde, RIG documented the process of the Heritage Lottery arts project related to the Tall Ships Race 2011. RIG documented the work undertaken by many young people in the run up to the event as they worked with various arts companies to produce work in Coral signing, dance, trapeze and street theatre.
Youth Music Initiative Film & Animation Project: RIG Arts linked to the song writing project inspired by the Inverclyde sculptures. Working with youth from the Mearns Centre, Greenock RIG created a documentary film; filming the sculptures, interviewing the artists and establishing the history and inspiration of the pieces. Working with five Primary 6-7 classes from Inverclyde schools, RIG also helped each school create an animation film based on and inspired by the sculpture and the songs or poems that they have created.