By 2012 RIG Arts had started creating and taking part in more community projects, as well as continuing with their exhibitions and art classes.
George Wylie A Life Less Ordinary: A retrospective exhibition to celebrate the life and work of George Wylie. It drew together treasures from the George Wylie's Archive, generously gifted by the artist to the University of Strathclyde, celebrating his life and his extraordinary career.
Arts, Music & Emotion: An exhibition of children's work showing masks, photographs and music depicting all types of emotions explored through Summer workshops.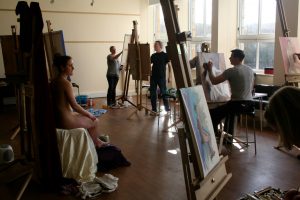 Masterclasses/ Life Classes: Our art masterclasses continued with Jim Strachan, Anne McKay and Jeff McDonald. Andrew Fitzpatrick also led 4 hour life drawing classes.
Phoenix Community Health Project: Mural working with young people, created for the Safe Harbour project at the Phoenix Community Health Project, Greenock.
Easter Workshops: At various locations around Inverclyde during the Easter holidays RIG provided interactive children's art workshops.
Art of the Olympics Competition: RIG ran a free competition out to Inverclyde schools for the children to create Olympic posters.
Dreams Come True: Free filming of the flash mob at St Enoch's Square by Inverclyde choirs raising money for charity Dreams Come True.
Dying Light: Funded by the BIG Lottery Fund's Young Start programme, the film's crew included 20 young unemployed  people from Inverclyde, trained with film industry professionals where they worked in workshops for script development, film production and post production. A feature horror film was produced, the first of it's kind in the UK, and a group of the young people involved went on to start up their own amateur film production company.
Anti-Sectarian Project: A documentary exploring Sectarianism in the West Coast of Scotland, working with Young people from Tomorrow's People.
Cosmic Voyage: Filming & editing of the Why?s Man workshops, shown at exhibition in The Mitchell library.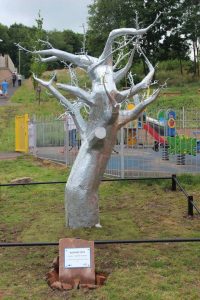 Woodhall Community Garden: Working in the community and as part of community consultations with 6 primary schools, a nursery, Youth clubs and with elderly Groups based in Port Glasgow. RIG arts created 2 entrance feature sculptures, a cairn, seating areas and a biodiversity garden.
Olympic Banners: Working across Inverclyde schools and taking 2 Continuing Personal Development workshops, training teachers how to make banners. We created 32 5ft x 2ft banners used by the council to welcome the Olympic torch to Inverclyde.
Are Ye Dancin'?: This project worked with six Inverclyde primary schools to explore the local dance halls, it's social history and exploring the fashion and music of the 1930's, 40's, 50's and 60's. This was an inter-generational project where kids also learned to use film equipment for a tie in documentary.
Highland Mary: This was an Education Scotland authority project, exploring the love story of Robert Burns and his love Highland Mary. This piece of history connected the 2 areas of East Ayrshire and Inverclyde. Included were two Inverclyde primaries and one East Ayrshire primary.
Heritage Young People Film Project: Working with Community Learning Development to investigate and make 6 short films about local history.
SEBN Residency: Residential workshop on arts and its effectiveness working with young people with Social, Emotional and Behavioural Needs.