By 2013 and 2014 RIG Arts started creating and running longer projects that ran for months in the community.
A Quiet Heroism That Goes On Everyday: An exhibition of paintings by Gaelic artist Eoghann MacColla exploring Scotland's national identity.
First Ladies of Football: An exhibition of paintings by Stuart Gibbs which traces the history of the woman's game from its beginnings in Glasgow during 1881 to the first official international match played in 1972 at Ravenscraig Athletics Ground in Greenock.
Annual Christmas Show: Christmas arts and crafts show allowing artists of all skill levels to showcase their talents and to sell work directly to the public.
Masterclasses/Life classes: Continued with artists from last year with added class from our very own Karen Patton Orr.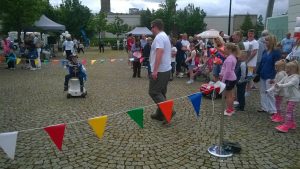 River Clyde Homes Fun Day: In July 2013 RIG Arts arranged and ran a family fun day on behalf of River Clyde Homes as a way to positively engage with their residents to build community spirit.
Woodhall Community Park Fun Days: Community consultation and art workshops at 5 different fun days at Woodhall Community Park building community spirit and connecting the local community with the park
Woodhall Community Park Sculptures & Features: Working in the community with 6 primary schools, a nursery, youth clubs and elderly groups based in Port Glasgow to gather ideas and involve them in the creation of 2 sculptural entrance features, a memorial cairn, time capsule, seating areas and view point.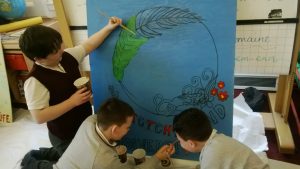 Barnardo's Art Workshops: Working with parents and children to design and create a stained glass effect mural for their new centre. They created a gorgeous underwater themed panel which is proudly displayed at Barnardo's.
Now Then: Working with Community Learning development, RIG Arts worked with a group of young people to enable them to develop and make 4 heritage films based on the local area. Their films were showcased at a preview screening at The Beacon Arts Centre.
Highland Mary: This was an Education Scotland inter-authority project exploring the love story of Robert Burns and his love, Highland Mary. This piece of history connected the 2 areas of East Ayrshire and Inverclyde – 2 Inverclyde primaries and one East Ayrshire primary were involved.
John Muir Award: Working with two classes of P6's from St Michael's primary school, they explored, discovered and documented the importance of nature and biodiversity in Woodhall Community Park to achieve a John Muir award.