In 2014 and 2015 RIG Arts had many of their own projects on the go and were continuing to develop their community experience and knowledge.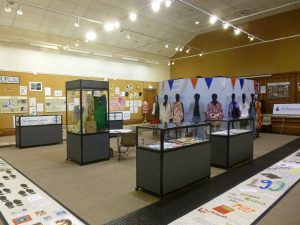 Are Ye Askin'?: A Heritage Lottery project looking at Inverclyde's social entertainment history. The project was inter-generational involving young people, volunteers, musicians, artists, film makers and  researchers. The project culminated in a showcase exhibition at the McLean Museum and the creation of a documentary screened at the Waterfront Cinema.
Outside Insight: Assisting with an arts workshop for the Beacon Arts Centre, we took community groups through an exploration of outside space, using found objects to create their personal spaces and teaching them how to express themselves through the visual arts.
River Clyde Homes Fun Day: For the second year in a row RIG Arts organised and ran a fun day for RCH residents to engage them in the arts and raise community spirit.
Youth in the Park: A voluntary event for Community Learning Development, providing free comic book workshops for the young people attending the Youth in the Park event in the Battery Park.
Summer Art Class: Summer art project with Enterprise Childcare's Summer club for Autistic children and REACH for Autism, enabling the young people to design and create a large comic strip and paintings. Funded by the Moffat Trust.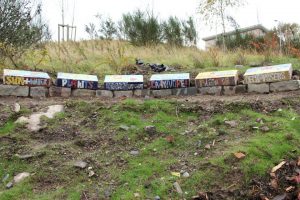 Belville Community Garden Fun Day: RIG Arts provided mosaic art workshops and street chalking as part of the Belville Community Garden's fun day to help the community group positively engage with local residents.
Serpentine Walk Belville Garden: Working with day release prisoners to create a Gaudi inspired stone and mosaic seating area shaped like a serpent in the garden.
King's Oak John Muir Award: Kings Oak Primary 6 gained a John Muir Award for their investigation and interaction with the Belville Community Garden. The children created a mosaic life cycle art piece for the garden.
Children in Need Film School: An after school film club involving students range of ages from three Inverclyde high schools, students from Inverclyde Council's More Choices More Chances programme also took part. The students work in groups with a professional filmmaker and scriptwriter to create their own short films that were screened at the Waterfront Cinema.
Engine Shed: Engine Shed was an Inverclyde Place Partnership project funded by Creative Scotland and was a public art research & development project asking "can the public make art and if they could what themes would merit a piece of public art for Inverclyde?"
ALFI Design Your Indentity: Working with Inverclyde Council's Community Learning Development's Adult Literacy Forum Inverclyde (ALFI) helping them define their i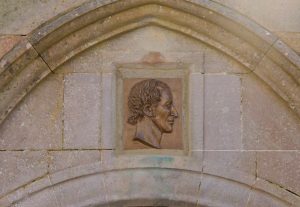 dentity in a visual way and to create a logo for their group.
John Gault Fountain: Sculptural relief and repair of the John Gault Fountain, (Esplanade Greenock) for the Inverclyde Council Heritage Commitee.
Through the Years: Through the Years exhibition, summarising Inverclyde's social entertainment history from the 1930's to the 1990's at the Beacon Arts Centre.
Between Langbank and Greenock: An exhibition of conceptual work from Chris Coleman Smith, inspired by the history, heritage and landscape of the Clyde Estuary between Langbank & Greenock.