2015-2016 was a busy year for projects RIG secured funding for and ran themselves. Notably this year RIG moved premises to the Tobacco Warehouse in which they renovated the first unit into an office and studio space.
Hidden: Animation workshops for young people involved in the Beacon Arts Centres Hidden/Criminal Justice project.
Greenscreen Inver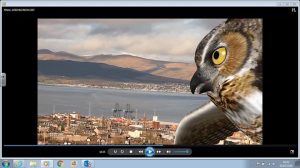 clyde: Funded by Junior Climate Challenge fund we worked with All Saint's, Kings Oak & St Patrick's Primary Schools in Greenock's East End, reducing carbon emissions and changing behaviours towards reducing, reusing and recycling waste. The young people measured their schools waste weekly and were able to evidence a big decrease in waste at the end of the project. An educational stop frame animation was created using recycled materials, it's available to view on our Vimeo channel.
Auchmountain Anti-vandalism Art: Working with the Auchmountain Hall Play-scheme creating art works as part of their anti-vandalism campaign.
BBC Film Lab: Young people worked with the BBC Film Lab at the RIG Arts studio in the Tobacco Warehouse and created 4 short films. They wrote, filmed, directed and edited their own films.
Summer Film School: Annual Summer film school working with Enterprise Childcare's Summer club for Autistic children and REACH for Autism, enabling the young people to design and create a large comic strip and paintings. Funded by the Moffat Trust and St Nicholas Care Fund.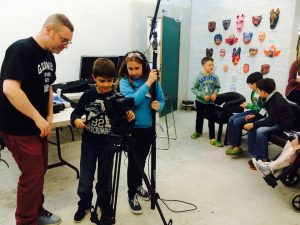 Touching Memory: Working with Ardgowan Primary students to research and create memory boxes, a blog, talking heads film and a performance for patients with dementia currently at Dunrod House, Ravenscraig Hospital and finally to be used in the new Orchard Grove Dementia hospital.
Debaters Group Workshops: Working with members of Your Voice exploring art used as social commentary in free art classes.
What's the Story?: Working with Faith in Throughcare with released prisoners in exploring and telling their stories as part of the 'Just Us' prisoners week project. The men created a video installation which was exhibited in Glasgow in November 2015.
Creativity Connects: Delivering art workshops as part of the Creativity Connects conference at the Beacon Arts Centre.
Poets@War: Funded by the Heritage Lottery, students from St Columba's schools in Gourock and Kilmacolm researched WW1 through looking at famous War Poets. They worked with a professional writer to develop their own poetry and with a theatre director to create a public performance at the Beacon Arts Centre.
Heid O' The Hill: Pilot arts project for River Clyde Homes delivering Art, Film and Photography workshops from the RIG Arts Broomhill Art Flat as part of the area's regeneration giving residents an opportunity be involved and to have a voice in the process whilst building community spirit.
Broomhill Christmas Event: Christmas event for residents of Broomhill, Greenock as part of the regeneration of the area.
Broomhill Documentary: Year 1 of 2 film documentary about the regeneration of Broomhill, Greenock.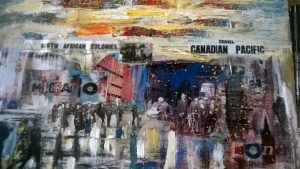 Engine Shed & Arclight Exhibition: Showcase exhibition of the Inverclyde Place Partnership's Engine Shed public art research & development project at the Tobacco Warehouse.
Tom Johnstone Cartoon Exhibition: An exhibition of Tom Johnston's cartoons as featured in the Greenock Telegraph with artists talk.
Dark Side O' Inverclyde: A photographic exhibition of Inverclyde by Louie Pastore.
On the Waterfront: Exhibition of local artists highlighting the beauty of the Tobacco Warehouse, Greenock and celebrating the return of the QM2.
Galoshans: An exhibition of local and international artists for the Galoshan's Festival.
Ghost Image: An exhibition of Jason Orr's photography as part of the Galoshan's Festival at the RIG Arts studio. There was also a screen show at the Waterfront Cinema.
Saturday Art Attack: Saturday art classes for kids and comic book class for teenagers.
Masterclasses: New series of masterclasses including watercolour classes by Aileen Wrennal and a Chiaroscuro class by Jim Strachan.