Projects recently ended in the current working year: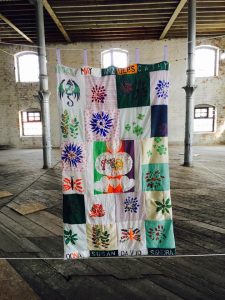 Recycle Upcycle
RIG led upcycling workshops focusing on the creative reuse of domestic items and clothes to create not only practical but stylish pieces. Workshops were in local schools as well as in our Broomhill Art Flat; teaching families valuable but largely forgotten household skills such as sewing, clothes repairs, knitting etc using collected materials which have been diverted from landfill to create practical items, like household soft furnishings, clothes and toys. We also led workshops in upcycling furniture, household goods and used textiles to help participants to save money, improve their homes and learn new skills whilst simultaneously reducing the amount of clothing and furniture sent to landfill.
Scotrail/Riverside Inverclyde Mural
To celebrate the rich heritage of Port Glasgow we researched (along with St John's primary pupils), designed and painted 14 murals that represent the town. The murals are hung in entrance walkway of Port Glasgow train station.