Over the past two yea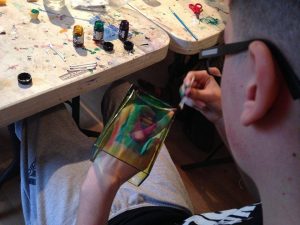 rs we have been holding workshops in local schools and our Broomhill Art Flat educating people on recycling and how to save items from landfill by upcycling. We have held upcycling workshops focusing on big items such as furniture and textiles as well as everyday items such as making vases from bottles and ashtrays or jewellery dishes from cans.
Several of our upcycling 'How-To' vlogs can be found here on Vimeo.
For this next phase of the project we are introducing the upcyling of plastic, using innovative technology such as 3D pens,  printers and plastic grinding machines – an example of which can be found here.
We hold weekly workshops in St Patrick's and Whinhill Primary Schools working with a range of class from Primary 4 – Primary 7. We also have workshops open to the public in our art flat (Broomhill Art Flat – 12 Broomhill Court, Ann Street, Greenock, PA15 4ET) – more about which, can be found on our Facebook events page.
These classes are free and open to all ages, come along to our  – on the day or contact us on info@rigarts.org for more details.
Plastic Fantastic is a continuation of our Recycle Upcycle and Greenscreen Inverclyde projects funded by Climate Challenge Fund and the European Regional Development Fund.